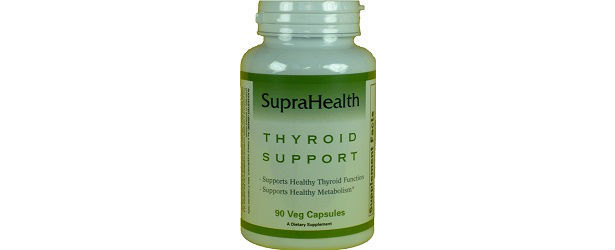 SupraHealth Thyroid Support Product Review
Introduction
This is a review of a thyroid support supplement called Thyroid Support from a company called SupraHealth. This product claims to be a complete nutritional supplement for the support of a healthy thyroid gland. It predominantly works to correct symptoms that are typically presented when the thyroid isn't functioning well, as in the case of hypothyroidism. It has some good points and therefore worthy of a close look.
As you read on, you will find out more about this product and discover whether or not you think that this could be of help to you.
Ingredients
Vitamin B-6 (from Pyridoxine HCI)
Folate (as Folic Acid)
Vitamin B-12 (as Methylcobalamin)
Iodine (from Potassium Iodine)
Zinc
Selenium
Copper
L-Tyrosine
Guggul
Ashwagandha
Other ingredients include: Cellulose (capsule), cellulose powder, magnesium stearate (vegetable source) and silica.
Dosage
The manufacturer suggests that the daily dosage should be two capsules per day.
Price
This product costs $22.49 for 90 capsules which gives the user 45 servings. This is relatively cheap compared to other similar products, that said, that doesn't always equate to good quality.
Guarantee
The manufacturer does not offer a specific guarantee for this supplement. They suggest that they will only accept return is the product is incorrect and due to an error on their part; that the products was defective; or that an allergic reaction was experienced. This is poor business practice and does not instill in the consumer any level of confidence to buy the product as they have no real way to get their money back if it doesn't work for them.
Conclusion
This product has a few good points as well as a few bad points. The lack of a clear guarantee makes one worry about the efficacy of the product. In addition, there are very few consumer reviews available that allow us to be able to ascertain whether this is an effective product or not. It is relatively cheap compared to other similar products, but that isn't always a good thing and often indicative of the poor quality ingredients that have been used.
On a positive note, the ingredients used are all natural and safe for vegetarians to consume. The mix of ingredients is such that the product offers a very targeted approach to supporting the thyroid to nourish and feed the gland to ensure it remains health and fully functional. The company offers a range of products for wellness and this may mean a thorough expertise in the areas of nutritional health supplements. The manufacturer claims to use ingredients that are the highest quality in each of their fields, and claim that before inclusion into their product, each ingredient is thoroughly tested for safety, efficacy, and potency to provide maximum results.
This is waht we would call a good product, but feel that there are others our there that are better. Click here to learn more about our Top Thyroid Products.