The #2 Rated Thyroid Product: ThyroMend
ThyroMend - #2
Thyroid Product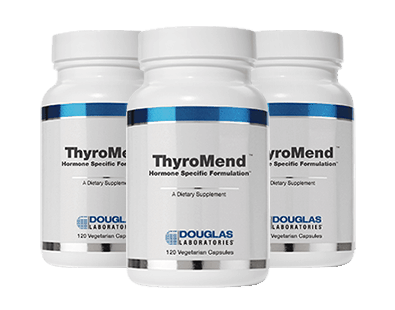 Supplement Facts
Servings Size: 2 Vegetarian Capsules
Servings Per Container: 60
Amount Per Serving
%DV
Iodine (from seaweed blend)
200mcg
133%
Proprietary Blend
1,300mcg
*
Seaweed Blend (Ascophyllum nodosum & Fucus vesiculosus, entire plant), Standardized Bacopa (Bacopa monnieri, aerial parts, 20% bacosides), Standardized Ashwagandha (Withania somnifera, root, 1.5% withanolides & 1% alkaloids) Standardized Hops (Humulus lupulus aerial parts, 5% alpha bitter acid), Coleus forskohlii (root, standardized to 10% forskolin), Sage (Salvia officinalis, leaf), & Standardized Rosemary extract (Rosmarinus officinalis, aerial parts, 6% carnosic acid)
*Daily Value not established
Thyromend comes in a close second with its proprietary formula of all natural ingredients for holistic support for a healthy thyroid. Good reviews and basic money back guarantee makes this appealing if you don't mind taking a proprietary blend.
EDITOR'S RATING
38 User Reviews
Introduction
This is a review of Douglas Laboratories' ThyroMend. This product is designed to support the body to maintain optimal health of your thyroid. It contains some good ingredients, albeit in the form of a proprietary blend which is not always so clear and transparent in terms of a formula breakdown and understanding of how much of each specific ingredient is in the formula. Please continue reading this review to determine if this is the ideal thyroid supplement for you.
Ingredients
Douglas Laboratories' ThyroMend contains the following:
Iodine
Seaweed blend
Standardized Guggulipid
Standardized Bacopa
Standardized Ashwagandha
Standardized Hops
Coleus forskohlii
Sage
Standardized Rosemary extract
This product also contains:
Hydroxypropyl methylcellulose
Dicalcium phosphate
Vegetable stearate
Silica
The product does not contain milk or dairy products, gluten, soy, wheat, sugar, sodium, starch, artificial preservatives or coloring.
Dosage
As a dietary supplement, it is recommended for adults to take 2 capsules a day, with food, for a period of 1 to 2 weeks, or as advised by your doctor.
The initial dose may be increased to 4 capsules a day, also with food, for a period of 2 to 4 months, if needed. After that period, it is best that the dosage is lowered back to 2 capsules a day. Again, it is best to consult with a doctor before taking any dietary supplements.
Possible Side Effects
No specific adverse reactions were listed on the product's website. Nonetheless, there is a warning label on the bottle which clearly states that pregnant or nursing women and those taking prescription medications should talk with their doctor before using this product.
Price
A bottle of ThyroMend containing 120 capsules will cost you $49.80 on the official product's website and $49.00 on Amazon. You save 2%, which may not seem like much, but remember, a penny saved is a penny earned.
Guarantee
The company behind this supplement guarantees the quality of its products, but if you wish to return it, you may do so within 30 days of purchase. If you suspect that the product is in any way damaged, you must make your claim within the first 7 days of purchase.
There are no reviews on the product's website. Luckily, ThyroMend can be found on Amazon, where it has a 5 star rating.
Conclusion
Douglas Laboratories' ThyroMend seems to be quite a good product. The price is excellent, considering you get 120 capsules, which, with optimal use, can last you up to two months. You can get it directly from the company's website, or from a retailer, if that is more convenient for you and the manufacturer offers a full money back guarantee. But the lack of reviews on the product's website is a clear set back. Click here to learn more about our Top Thyroid Products.
Click here to learn more about our Top Thyroid Products.
Lauren Shepherdson
reviewed on and gave it a rating of
3
.